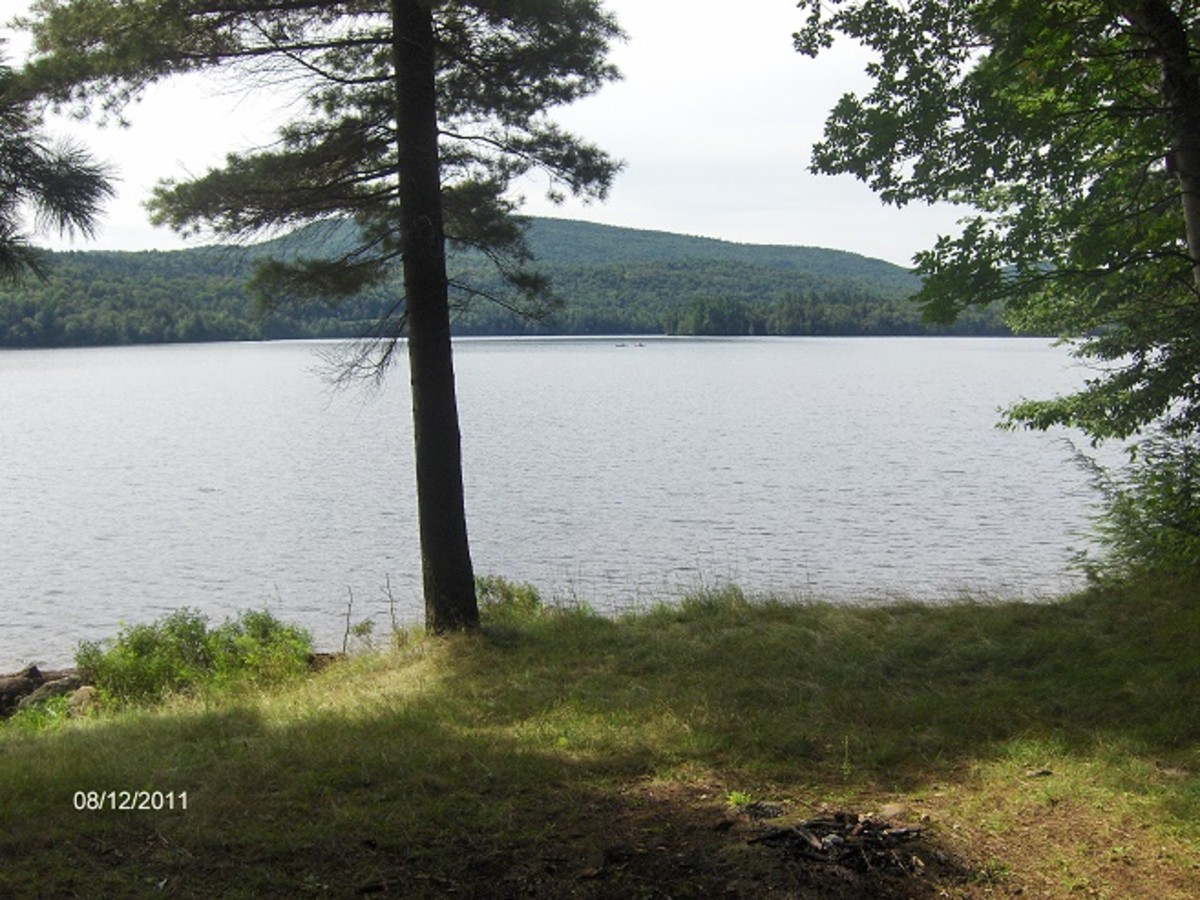 Arnold Lake State Forest trails lie on New York State and Otsego County lands surrounding Arnold Lake. The main trail is a 5.5 mile loop that crosses public high-ways at three places. Parking is available at each of these points, so hikes of different lengths can be arranged if two vehicles are used. The trail has several short, steep pitches but can be skied comfortably by cross-country skiers of modest ability.
Arnold Lake Road Parking Lot (42.615244°N, 75.000686°W) 
Joe Cornell Road Parking Lot (42.600681°N, 75.015771°W) 
Arnold Lake offers fishing year-round, and is stocked each year with rainbow trout (8-9" in length) and brown trout (8-10" in length). Â Please note there is a daily limit of 3 trout.
Recreational Activities at Arnold Lake State Forest
Fishing
Hiking
Cross Country Skiing
A launch is located on the northwest corner of lake at outlet on Arnold Lake Road.
Fish Species
Rainbow Trout
Brown Trout
Chain Pickerel
Golden Shiner
Creek Chub
White Sucker
Brown Bullhead
Rock Bass
Pumpkinseed
Bluegill
Smallmouth Bass
Yellow Perch
Hiking and Cross Country Skiing Access
From State Highway 205m south of Mount Vision, follow County HIghway 46 northeasterly 3.1 miles to Joe Cornell Road. From Milford, take County Highway 44 to 46 and travel west 4.4 miles. The trailhead parking lot is on the south side of 46, off Joe Cornell Road.
Hiking and Cross Country Skiing Trails
The trails, maintained by the Susquehanna Chapter of the Adirondack Mountain Club, are marked with yellow cross-country ski markers. They consist in part of forest access roads or logging roads and in part of narrow footpaths. There are several open fields that have been logged and are returning to tree cover. They will provide some nice views.
For a trip of about 3.5 miles that starts and ends at Joe Cornell parking lot, take the trail across County Highway 46 from Joe Cornell Road. It begins on the access road to a quarry, but after just a few yards it forks to the right on a footpath. In about a mile, the trail intersects an access road that leads to private property on the left. Cross the road and continue on an old road. About a half mile ahead, keep going straight where another old road goes to the right. The trail soon jogs north (left) and then east again, to a sign for the Joe Cornell Road trailhead.  Continue straight ahead. The trail soon curves right. At the bottom of a short hill, turn right onto the access road, which will bring you back to the intersection with the footpath.  Turn left and retrace your steps to the trailhead. 
For an end-to-end hike from Joe Cornell Road to Arnold Lake Road, follow the above instructions to the sign for the Joe Cornell Road trailhead and bear left. This hike is about 2.5 miles long.
The segment of trail on the east side of Arnold Lake follows a forest access road, good for cross-country skiing. It's approximately 2.5 miles long.
From the sign-in box at the Joe Cornell Road parking lot, a 1-mile trail leads down to an intersection with County Highway 46, across from the forest access road.